The Xbox app is the most comprehensive way to have full control over your Xbox while you're not even playing – bringing together your games, friends lists, achievements between your Xbox and Windows 10 devices. The Xbox Windows app 10 is your home away from home, when it comes to Xbox One.
Using the app is very simple, but we've created a guide for you in case there are things you weren't aware of!
What is the Xbox Windows 10 app?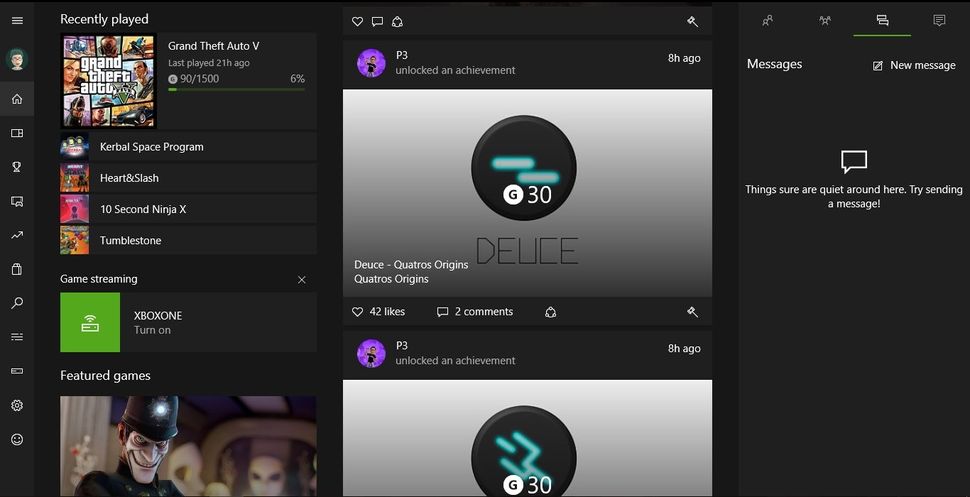 The Xbox Windows 10 app is an app available on all your compatible Windows 10 devices, even if they are phones, tablets, PCs or laptops. Whether you just use it to track what your friends have been playing while you're offline or to stream games from your Xbox to your Windows 10 device, the Xbox Windows 10 app has you covered for those things and more.
Note: An active Xbox Live Gold membership is still required for multiplayer on Xbox One.
social butterfly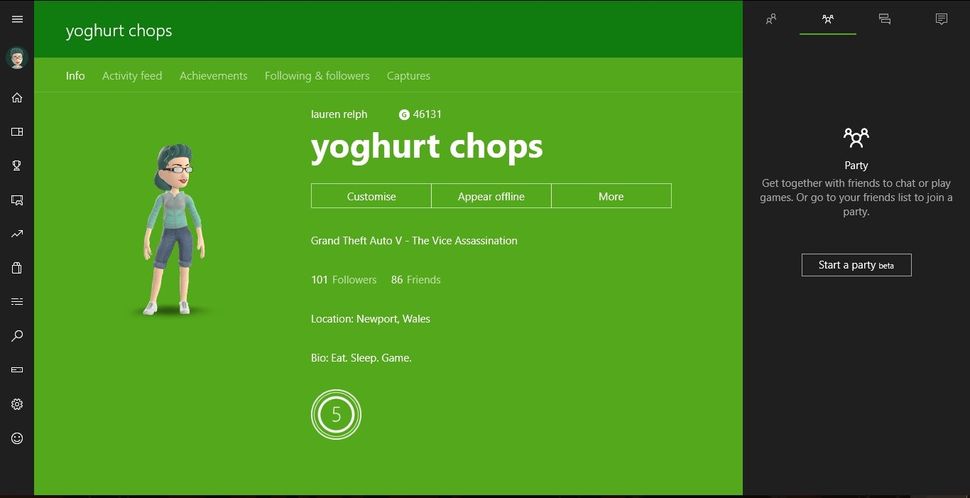 One of the main things you'll notice about the Xbox app on Windows 10 when using a tablet or the desktop app is that your friends list always stays with you. Whether you're browsing through your game library or checking for achievements you still need to earn, your friends are always close at hand.
Here you can:
Instantly access your entire friends list and find the people you're looking for faster by typing their name in the search bar.
Start a party, whether it's on Xbox or PC.
Send a message.
Check your activity alerts.
You can also create posts and share them on your activity timeline, as well as like, share, and comment on your friends' posts.
If you feel like showing off your best, you can edit your profile information by selecting your profile picture at the top of the menu stack. Customize the look of your profile, bio, and other details on this page.
From here you can also check in to your activity page, achievements, followers, and follows and captures.
Achievements
Check out the achievement leaderboard to see who among your friends has unlocked the most in the last 30 days, compare scores, and find a list of all the games you've unlocked an achievement on before.
followers follow
This is a list of all the people you've friended and are currently on your list, and all the games you own on Xbox One or Xbox 360 Backward Compatibility. Selecting a game will take you to a game synopsis page, with a button to the store or to follow the game. Do a side-by-side comparison between you and a friend. In a nice competitive twist, the friend with the highest Gamerscore will celebrate while the other cries.
catches
All your screenshots and game clips saved on your Xbox One are accessible from your Windows 10 device. Share your Xbox screenshots on Facebook or Twitter, as well as your activity feed.
Tendency
What's good on Xbox right now? The most popular creations people have made using Xbox One's Studio are all waiting for you here to give you ideas for your own premium content. Here, the developers will also post community challenges that anyone can participate in. Watch other people's videos they made using Studio Upload, comment, like or share.
Xbox game management
There are several ways to manage your game library using the Xbox Windows 10 app.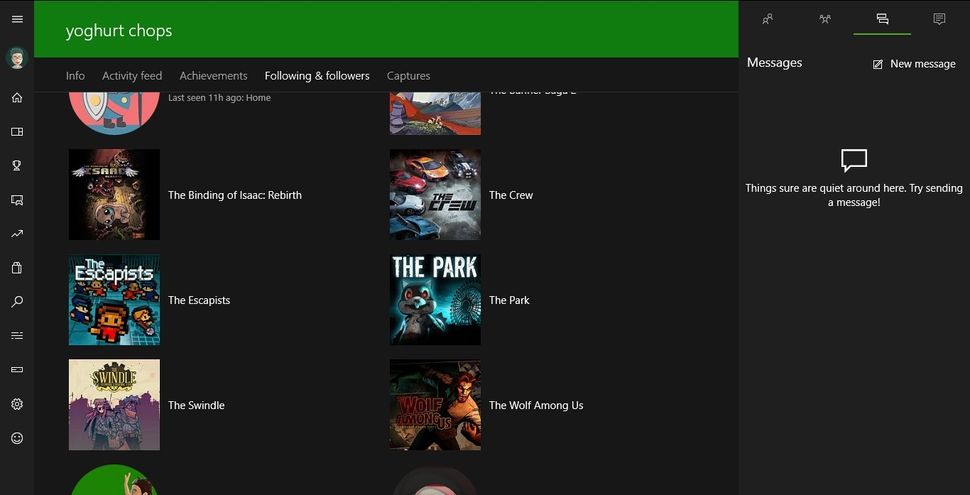 Unlike your games library on Xbox One, My Games shows you all the games you have installed on your desktop or laptop, which you can launch and play from the Xbox app. These aren't limited to Microsoft or even Xbox games, specifically. Your Xbox Play Anywhere titles will live here, and you now have a cross-device multiplayer platform, whether you're on Xbox or PC. Forza and Killer Instinct are ready for all of you. The game installed on your Xbox One is in your Followers and following.
Add game
Adding a game from your Windows library is easy – with just one click of the Add a game button from your PC, you can select the game you want to add from your installed list. And that's all! If you have purchased games from platforms such as Steam or Origin, you will need to log in before the game launches. A link at the bottom of the page will take you to the store if you save your energy by selecting the store from the menu of the lateral bar.
game hubs
You can find the game's hub by selecting the game you're interested in, which will take you to its page. The button below the page will take you to the hub. Game hubs are your go-to places for developer updates, see which of your friends are also playing the game, your score and achievement ranking, and captures. If you're not already following the game, you can also do so here. This allows game posts to appear in your activity feed on your homepage.
Diffusion
Yes, you can stream your Xbox One games to your PC.
Record game clips
You can still access your GameDVR from your Windows10 device, you can even record your Xbox One while you game as well as streaming. Pretty cool, huh?
When you are ready to record a clip, simply select the Link tab, which looks like a front view of an Xbox One. If you haven't linked your console to your app yet, follow the link above. Once connected, you will have your Xbox One details on the screen. Below the game image is a round red save button. Tap it and you're recording Xbox One footage remotely! You wizard!
With background recording enabled from Settings, you can record games you're playing while you're playing them through the Xbox app, even PC games. When launching a game, it will ask if you want to start recording your microphone and give you hotkeys. If you've ever wanted to be a YouTube gaming star, this (free) app gives you all the recording software you need to capture your best sessions. Select the best encoding options in the general settings and there's absolutely no reason why you shouldn't be making Xbox Fail and Best Of compilations in no time.
Saving non-game content
The Xbox app for Windows 10 also lets you record clips from more than just games.
Buy Xbox games
The Xbox app has a store through which you can buy Xbox One games (which will immediately download to your console), and it's presented exactly as you find it on Xbox One, and it includes support for the promo code redemption as well as Games With Gold and Gold deals. There's even a bar showing the free games.
Not only does the store cater to Xbox One, but you'll also find the Windows 10 store. Here are all the games you can play through Xbox Live on your PC, tablet, or in some cases, even your phone.
Link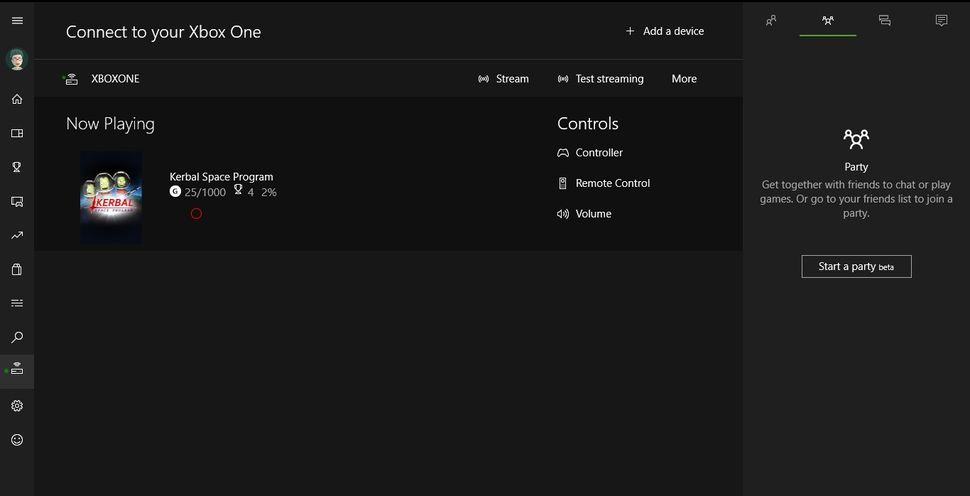 Connect your Xbox to the app
If your Xbox One is on the same network as your Windows 10 device, it should automatically pair the two. If not, you can select the Xbox you want to connect to or add a new one. If you're having trouble connecting the Xbox One to the app, the most common way to fix it is to turn the Xbox One off and on again (hold down the power button for ten seconds until it turns off).
OneGuide
If you've set up OneGuide to control your TV with your Xbox One, you'll also be able to control your TV through your Xbox One using the Windows 10 Xbox app.
Controls
The Xbox app lets you use the app itself as a gamepad or TV remote.
Controller
You probably won't choose to play games with the on-screen controller. It's a fast, responsive, and easy way to navigate on-screen menus, rather than using your Xbox One controller. If you have a touchscreen device, you can swipe to move around and the on-screen buttons are well spaced out.
Remote
If buying a remote for your Xbox One stand isn't an option you want to pursue, you can use the remote in the Link tab to manage it for you. This requires Oneguide to be already set up and running
Volume
What if you're not using Cortana and Kinect and there's no remote in sight when you need to adjust the volume? Use the app!
Settings
The Settings tab manages all of your personal information, GameDVR, notifications, and network settings.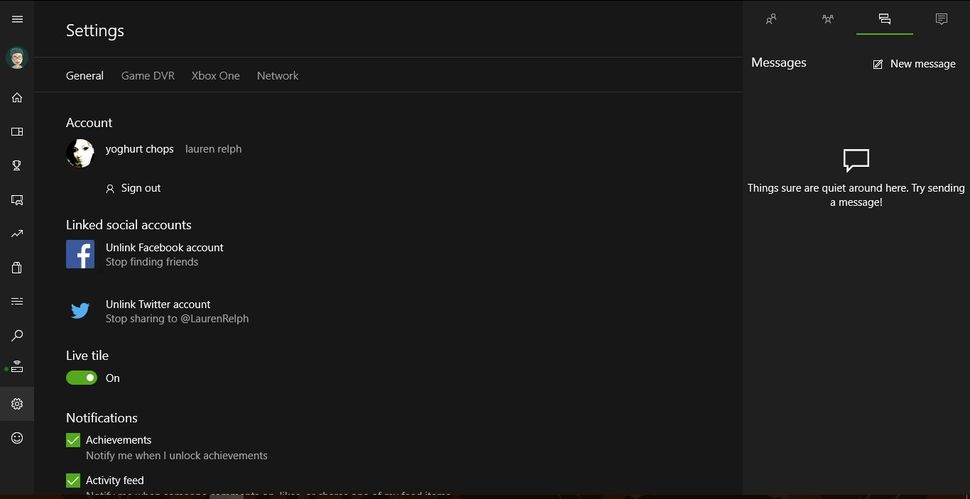 General settings
This covers all your login details and social media links – if you want to share things beyond Xbox Live, this is where you go. Here you can set up adding your Facebook account, which will import all of your contacts who are also on Xbox Live. You can also set up your Twitter connection here, and once set up, you can directly share any screenshots or clips you save with your followers.
You can also attend your notifications here, to select which Xbox notifications you can receive on your Windows 10 device. Choose here which activities you want to be notified about, maybe all, maybe none. This is the easiest way to access these settings without being on your Xbox One.
GameDVR
This will cover all of your keyboard commands for using GameDVR through the Windows 10 Xbox app. You can record it in the background while playback, capture and instant save up to two hours of footage straight to your hard drive. You can even use the app to record your microphone while it records your gameplay, so you can essentially create the meat of your new YouTube series without even needing a capture card and various devices.
Do you want to access only the clips you saved on Xbox One or through the Xbox app? Select the filter at the top to view your preferred platform. You can download the clips directly from the app to your hard drive, share them to your Showcase, feed or Twitter.
XboxOne
Only two parameters are in this subsection. Your streaming encoding level and a setting to use your Windows 10 device as a keyboard instead of using the controller to input from the screen.
Network status
If you want to check that you're connected to the internet or what the current status of Xbox Live is, this tab will give you an overview of how each service is performing. These will be Network Connection, Xbox Live Status, Teredo Address, Packet Loss, and Latency.
Download the Xbox app from the Windows Store (opens in a new tab)