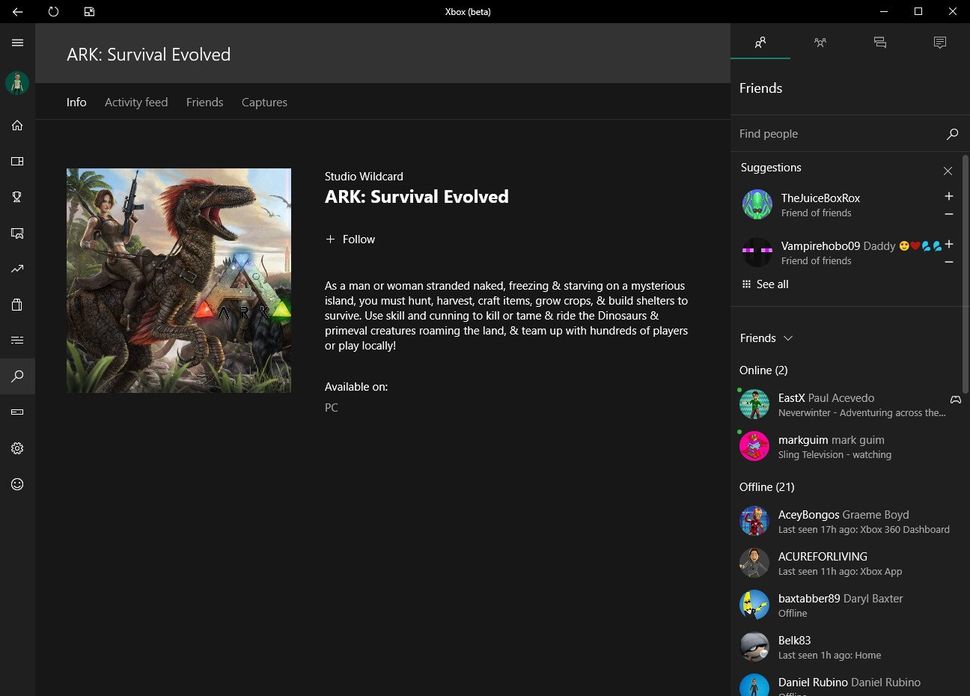 Microsoft opening up part of the Xbox Live ecosystem to non-Windows 10 games is a big deal, and while it's pretty limited right now, it's officially here in the latest Xbox app release (beta).
Few games are supported at the moment and it will take some time for the available content to fill up. Nevertheless, you can start searching and tracking your favorite non-Windows 10 PC games right now.
Here's how:
Look in the sidebar for the new "Find a game" option.
Type your preferred title in the search field.
If it is supported, you will see it as available on PC as shown in the image above.
Select the game and you'll be presented with a Game Hub just like you would with Xbox One games.
To track all future activity, click the "Follow" button in the "Info" tab.
So far, we've seen support for this feature from Overwatch, Battlefield 4, Overwatch, Ark: Survival Evolved, and Rainbow Six Siege, although there are likely to be many more. These will take a while to fill in, but we've seen clips downloaded from the PC edition of Overwatch before, and the experience is indistinguishable from someone who had done the same on the Xbox One.
Like it should be.
If you want to take a look for yourself, grab the latest Xbox build (beta) from the Windows Store at the link below.
Download Xbox (Beta) from the Windows Store (opens in a new tab)